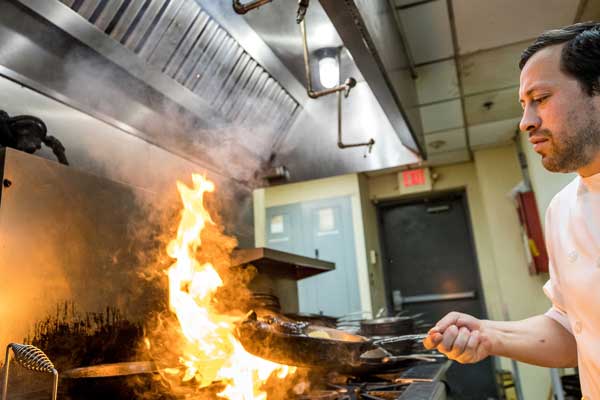 Hood, flue and fan cleaning is required by National Fire Code (NFPA 96) to protect your kitchen and staff. Traditional hood and flue cleaners send in a cleaning crew on a quarterly or semi-annual schedule and shut down your kitchen to scrape or power wash grease buildup with harsh chemicals. This process often leaves a mess and can cause damage to expensive equipment. Beyond the headache of dealing with these outdated cleaning methods, this service can cost thousands of dollars per year. But most importantly, semi-regular cleaning "events" mean grease is gradually building up between cleanings, leaving your kitchen staff and customers at risk of a fire starting the day after a cleaning.
Why You Need Automated Hood Cleaning Technology
One of Restaurant Technologies' automated kitchen technologies and a brand new innovation to the market, AutoMist is an automated hood, flue, and fan cleaner designed to eliminate the hazardous buildup of grease in every food service kitchen. Every day, AutoMist automatically cleans with a spray mixture of degreaser and water designed to keep your hood, flue and fan consistently clean, greatly reducing the risk of a catastrophic fire. Unlike any other product available, AutoMist is a safer, cleaner and more efficient kitchen hood cleaning technology. It not only automates the cleaning process and eliminates the quarterly or semi-annual cost of cleaning services, but requires no quarterly loss of business and minimizes risk every day by keeping the hood, flue and fan area clean. In addition, AutoMist can be retrofitted to install in existing exhaust systems nationwide.
"I love it, we don't have to close down for cleaning anymore. For that reason
alone, I love the system, and won't want to go back to the old way."
— Lisa Thurmes, McOpCo Supervisor
Save on Your Insurance Premiums.
Get end-to-end cooking oil management & clean hood solutions to help you create a safer, more successful business.
The Benefits of AutoMist
Mitigate fire risk
Prevent oil and grease build up
Eliminate the need for quarterly hood cleaning
Increase kitchen efficiencies
Maintain a clean and safe kitchen environment
Be eligible for discounted insurance programs
Use a sustainable solution with minimal impact on the environment
Want to experience the power of AutoMist for yourself? Contact Restaurant Technologies today.