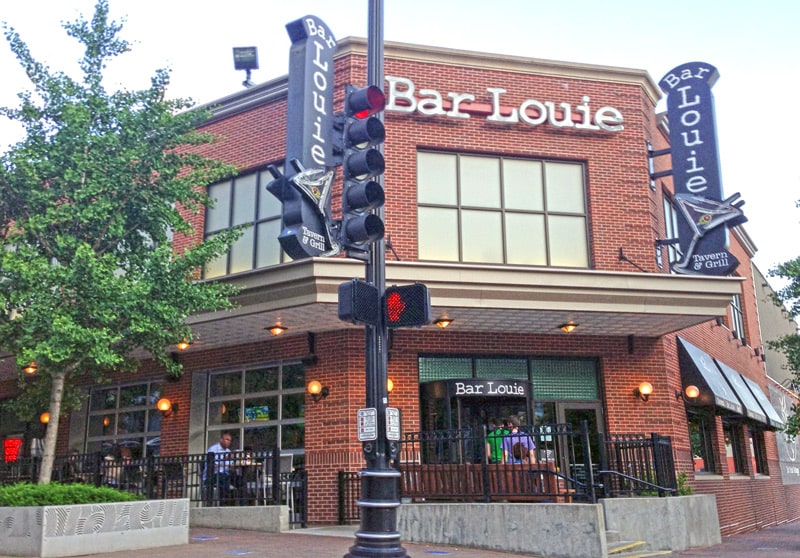 Bar Louie calls itself an "eclectic urban bar." With more than 70 locations, it's broken the mold of traditional chains by creating a variety of local environments with unique furnishings and regional menu items. But one thing is consistent across all locations – a focus on quality food. When Bar Louie franchise owner, Tony De Salvo, noticed that the manual system for managing and filtering fryer oil at his locations was causing employees to deviate from standard oil operating procedures which sacrificed the quality of the oil, he knew something needed to change.
"Our old system was so messy, physically strenuous and even dangerous, that employees were cutting corners to avoid doing the work," said De Salvo. "Instead of filtering the oil, employees would add fresh oil to bad oil, overuse the oil and then dump and replace large quantities." As a result, De Salvo's restaurants were using approximately 100 lbs. more oil per week than necessary. He turned to Restaurant Technologies to help reduce waste, save money, and make his restaurants safer for his employees.
More Control Means Less Stress
With the Restaurant Technologies automated oil management system installed in three of his franchise locations with more to follow, De Salvo has one less issue to worry about in his restaurants. The turnkey system streamlines the oil delivery, storage, handling, filtering, and disposal processes — ensuring consistent food quality and making monthly oil costs more predictable. The innovative closed-loop system includes two tanks installed near the fryer. One contains fresh oil to refresh or replace the oil when needed. The other tank holds used oil. Both tanks are connected by separate lines that extend to a secure fill-box mounted on the restaurant's exterior.
Software tracks and transmits oil usage data to Restaurant Technologies' distribution system. Operators no longer need to worry about quantity of oil on-hand because Restaurant Technologies remotely tracks usage and automatically routes trucks to fill the fresh oil tank while simultaneously pumping out the waste oil and hauling it away for recycling into biodiesel fuel. Restaurant Technologies' web-based filtration monitoring portal provides De Salvo the tools to track when scheduled maintenance or filtration tasks are completed and alerts him if standard operating procedures are not followed. Restaurant managers can receive alerts via email or text message, providing immediate communication when oil handling protocols are not followed and food quality is being compromised. With accurate, real-time information, they can ensure that employees follow best practices for a more efficient and more profitable business. "Bar Louie is known for high quality food – that's something we just won't sacrifice," said De Salvo.
"Restaurant Technologies takes the guesswork out of oil management and filtration processes, improving consistency and employee accountability which positively impacts our food quality."
If employees fail to follow standard operating procedures, managers can address the issue to understand the circumstances, gauge whether the failure could have been prevented, and provide training for handling the issue in the future. Employee training has contributed to process improvements across all restaurants. For business owners with franchises in several markets like De Salvo, the real-time web-based reporting tool is essential, allowing for easy access to data for all restaurant locations, from anywhere with internet access.
Raising Quality While Cutting Costs
For De Salvo, consistently creating high quality food has always been the top priority. But the oil management system has delivered benefits beyond food quality assurance that contribute straight to the bottom line. As an additional and equally important benefit, the system created a safer workplace for employees. Since installing Total Oil Management, De Salvo has seen a 50 percent decrease in workers' compensation claims due to slips and falls in the kitchen – a common problem caused by greasy oil spills. "We just had a workers' compensation review and it's surprising how much difference an automated system can make," said De Salvo.
"We want employees to feel safe at work, and this is an easy way we can make it safer."
Save on Your Insurance Premiums.
Get end-to-end cooking oil management & clean hood solutions to help you create a safer, more successful business.
Enhanced Safety for Better Focus
The new process also helps minimize some of the less popular tasks for employees. "We estimate that employees spend at least 15 fewer minutes on kitchen cleaning at the end of each day. This can get them home to their families faster, but it also saves us about $150 to $200 per week in labor costs at each location." Finally, De Salvo participates in a cooking oil recycling program through Restaurant Technologies. This transforms used cooking oil into a "business asset," by issuing oil credits to restaurants in the program.
"When I open a new Bar Louie, the Restaurant Technologies' oil management system will always be part of the planning. It's that simple."
Back to Restaurant Technologies Case Studies